Pirate Radio Poster
Poster designed and printed for Wieden+Kennedy London's internal Air Max Day 2023 inspired by Pirate Radio.
As Air Max sneakers represent persistence and independence, the brief was to come up with a poster to accompany a special Pirate Radio style audio session embodying the spirit of rebellion.
Tylko Brand Campaign 2023
Furniture that fits. For people that don't.
Generative design system reflecting furniture grids for Tylko -a next-generation furniture company, improving homes through premium, bespoke storage furniture.
Drawing inspiration from the shelving units themselves and the customisation feature on Tylko's website, this design system is based on grids and structures.

In partnership with STUDIO DUMBAR/DEPT and Kloon, we established a bold new brand platform, motion system and TOV and launched it all through a brand campaign in the Netherlands.

This work was made in collaboration with Grey London team.
Nike Running Live Brief
BRIEF: Taking Nike's POV to the streets; making an Out-Of-Home campaign.

IDEA: Treating obstacles like a game; they make you more agile and the runs - more challenging.
EXECUTION: Guerilla marketing; making stickers and labelling obstacles that runners find challenging.

INSIGHT: Running in London is hard. If it was easy, a Londoner wouldn't do it.
AUDIENCE: 16-24 in London who run a few times a week but don't consider themselves "runner runners".

The colourful textures and icons used in poster mockups were developed by the design team at Wieden+Kennedy London.
A campaign on pavement slabs protecting runners' ankles, frequently hurt on wobbly pavement slabs.






Visual Identity for a vape brand
Visual identity for mindful vape brand.
BRIEF: Advertise vapes.
BENEFIT: Vaping provides you with breathing exercises.
INSIGHT: Both breathing exercises and smoking has a relaxing effect.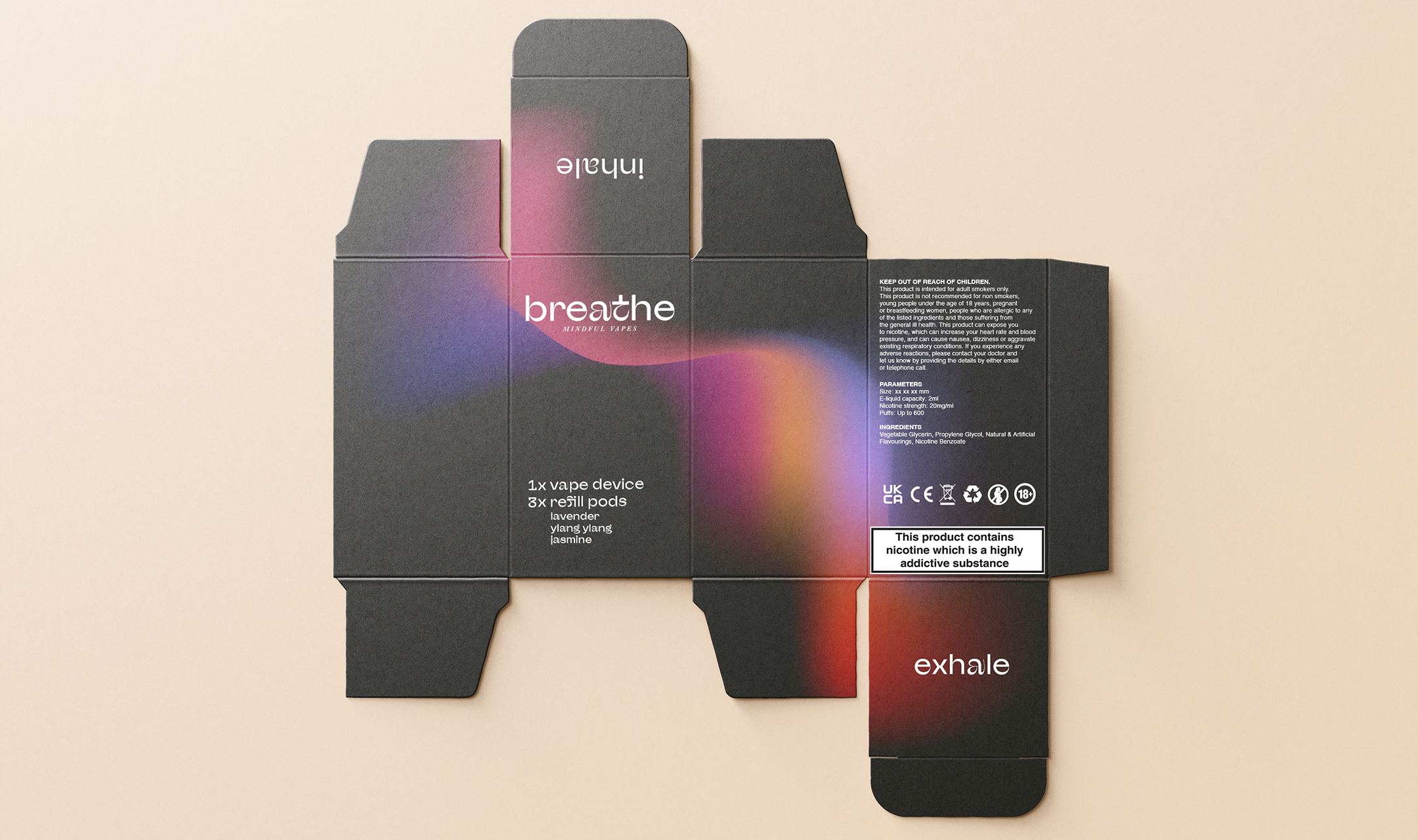 men don't know that women poop
BRIEF: Explore the relationships between women and toilets.
IDEA: Surveying hundreds of women at Central Saint Martins by putting open questionnaires inside the toilets.

EXECUTION: A newspaper featuring the responses, photography and research on shame and taboo in modern society.

Daily Poster Challenge
A design exercise where I challenged myself to make one poster in a day featuring one line from the day that stuck with me. Below are my favourite ones.
This poster refers to one of my mentors saying that when you put two opposite things together they sometimes bring out the most in both of them, hence 'Precision Juxtaposed'.


This poster is about how everything can be a great creative insight.


This poster is about my fear of networking in a big company.


Shame, disgust and taboo in visual (and ideological) communication
BA dissertation; a handmade publication exploring concepts of disgust and shame in graphic communication design.
The work features a case study of two other design projects exploring those themes and act as a scaffolding for research presented in this publication.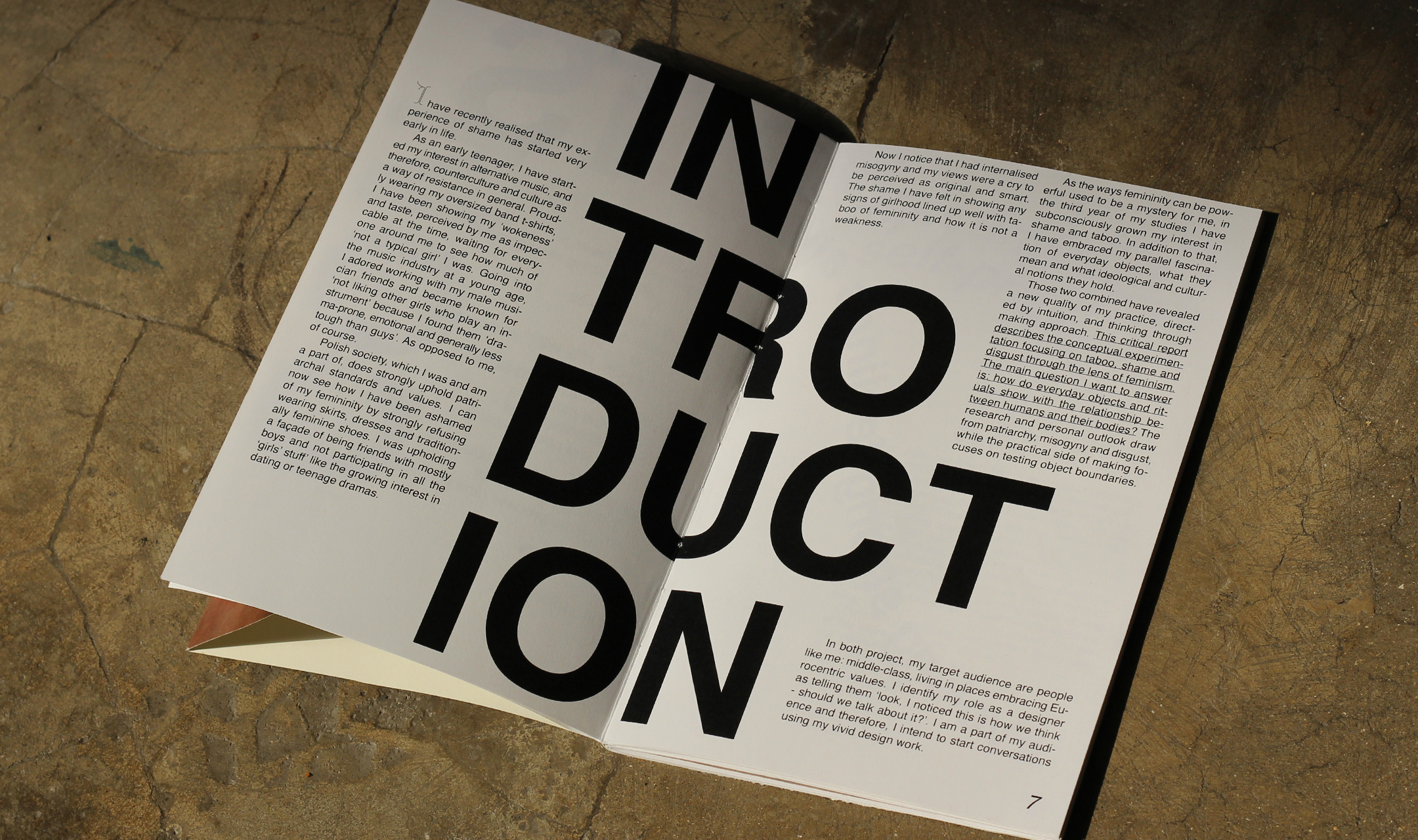 Sustainable wayfinding for Central Saint Martins
This project has been commissioned by Central Saint Martins includes two sustainable pocket maps (with total print run of 6000 copies) and wayfinding system for two CSM sites.
All the work is printed using risograph (soya ink) and recycled paper made from post-consumer waste.
To learn more about this project,
click here
to read an interview with me on University's website.
New Journalist Magazine
Visual identity, art direction and editorial design for New Journalist Magazine.
Co-owning and producing a long-form photojournalism magazine aimed to be a platform for underrepresented photographers and creators.